CHOCOLATE ORDERING
Can I have my chocolate delivered locally?
We have phased out our local delivery option now that our cafe is open. Please come visit our cafe and if you're not comfortable coming into the shop, you place an order to be shipped to your location.
Can I pick up my order locally?
Local pick up if not available right now.
Is my order safe to open after it's been through the mail?
There is no evidence that COVID-19 is spreading through mail or parcels, according to the World Health Organization and U.S. Centers for Disease Control and Prevention. Health experts say the risks are very low that COVID-19 will remain on envelopes or packages and infect anyone who handles them.
It's still a good idea to wash your hands thoroughly and regularly — and avoid touching your face — after handling deliveries.
Can I ship to more than one address in an order?
We ask that you create a separate online order for each address that you wish to send a package to.
If you have multiple addresses to send orders to please send us an email with the items that you would like to purchase along with the addresses and gift messages that you would like to be including. We will send you a confirmation and a digital invoice for payment
How is warmer weather going to impact my order?
Chocolate can be easily damaged by heat and sunlight and we take every precaution to ensure that your shipment will arrive without heat damage. When shipping chocolate in the warmer months of the year or to warmer destinations, we will frequently include an ice pack and insulation.
When choosing an address to ship to, we encourage you to choose one where someone will be available to receive it, so it will not sit on a doorstep during the hottest part of the day.
During the summer months, we only ship Mon-Wed to ensure that the heat protection measures we take stay intact.
Do you sell gift cards?
We sell both in-store and online gift cards.
You can purchase an online gift card under the SHOP tab on our website. These cards can only be used for online purchases.
To purchase an in-store gift card, please call us at 774.538.6249. We can take your credit or debit card over the phone to process the payment and mail the gift card to you or your recipient. These cards can only be used in-store.
Please contact us if you have any questions.
ORDER CONFIRMATION & ARRIVAL
Will I get an order confirmation?
An order receipt will be sent immediately to your email address after placing your order. You will receive an order confirmation email with your order number and order total within two hours of placing your order.
Please review this information as soon as possible to ensure all addresses, items and arrival dates are correct. If you need to make any changes to your order, contact Customer Care at sales@chequessettchocolate.com or 774-538-6249.
When will my order be shipped?
Chequessett Chocolate is committed to making sure you receive chocolate as soon as possible. 
We process orders daily but please allow for a 3-5 day lead time from the time your order is placed in case an item is out of stock or if the destination is in a warm weather location, in which case we only ship Mon-Wed.
What shipping carriers do you use?
We use UPS for all orders.
Please select an address that UPS can deliver to. If your order needs to be shipped via USPS or FedEx you must communicate that to us in advance and your order may incur an increased shipping cost and delay.
When can I expect my order to arrive?
All orders are shipped from Chequessett Chocolate at 8 Highland Road, North Truro, MA. Below is a map showing postal zones and delivery time estimates. Recipients in Massachusetts and Rhode Island can expect 1-day delivery, and all other delivery will be 2-day or 3-day depending on the location.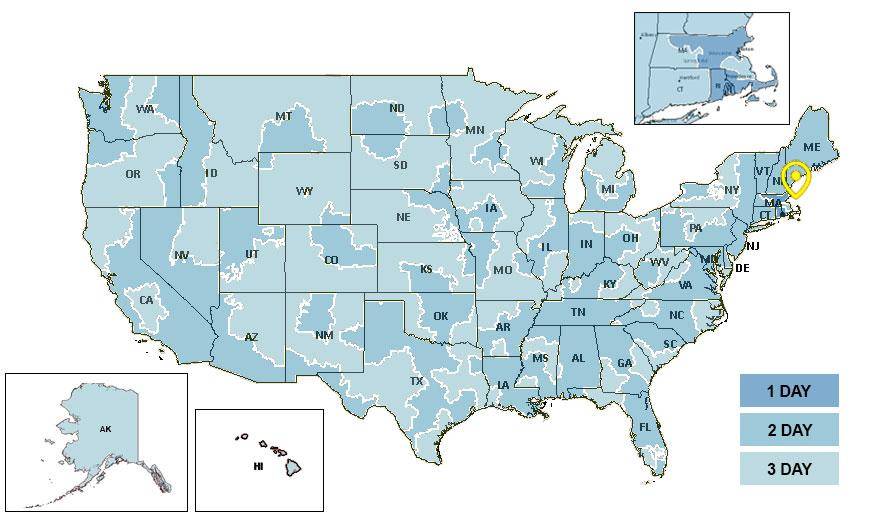 Can I get expedited shipping?
At this time we do not offer expedited shipping options at checkout. If you are interested in this option please contact us and we would be happy to coordinate it for you.
We use USPS as our carrier but can use UPS or FedEx upon request.
Can you hold my order for a future date?
Yes, we can hold your order for a future delivery date. During Checkout, before you select the method of shipping, specify the future arrival date in the 'Include a Gift Message or Special Instructions About Your Order' field.
My order is a gift - Can I include a note with my order and is the price included in the package?
If you would like to include a gift message, enter the message in your cart in the field that says 'Include a Gift Message or Special Instructions About Your Order' and it will be included in the package.
There are no prices printed on the packaging slip that goes in the order so the recipient will not know any of the prices.
STORING CHOCOLATE
How long will the chocolates keep their fresh taste?
Chequessett Chocolates will maintain freshness after opening if stored at temperatures that do not exceed 65°F (18°C). Avoid heat, humidity, and direct sunlight. For freshness of unopened products refer to the Best By Dating printed on many of our products.
How should I store the chocolate?
You should not store your chocolate in the refrigerator but if you choose to store your chocolate in the refrigerator remember that chocolate stored in the refrigerator will "sweat" – this means that a layer of moisture will form on the surface of the chocolate, and when cooled, stickiness will result.
The temperature in a refrigerator is too low and humidity too high for ideal chocolate storage we recommend find a cool, dry place in your home such as a cupboard or pantry to keep chocolate.
GENERAL QUESTIONS
What is Chequessett Chocolate's Policy on Donation requests?
Although we would like to honor all requests, Chequessett Chocolate receives hundreds of solicitations for donations and promotions annually and unfortunately, we cannot accommodate everyone.
As a result, we prioritize and make donations to select organization that we often partner with, as well as make donations to organizations that are supported directly by a Chequessett Chocolate employee.
Why didn't my promotional code or promotional offer work?
From time to time, Chequessettchocolate.com will offer special promotions and discounts. Many offers require a minimum spend in order to qualify for the promotional offer. This amount does not include tax or shipping and cannot be split between multiple shipments. Offers are valid in the US only on orders placed on Chequessettchocolate.com, and are not valid at our factory store, or over the phone.
How can I sell Chequessett Chocolate in my store?
Please contact us at sales@chequessettchocolate and we'll help you set up an account.
How can I apply for a job with Chequessett Chocolate?
Please send a cover letter and your resume to hello@chequessettchocolate.com.
Still have questions?
Call Us 774-538-6249
Email Us hello@chequessettchocolate.com